Research Updates
Other Research Updates - September 2022 // July 2014 // June 2010 // Sept 2007 // Apr 2006 // Nov 2006 // Dec 2006 // Oct 2005
---
Toby's Foundation is giving $10,000 to sponsor 4 New CHF research grants!
September 2022
---
Toby's Foundation to give $10,000 to support Epilepsy Research Initiative.
July 2014
Toby's Foundation has been instrumental in raising canine epilepsy awareness by bringing much needed attention to this disease, educating the public about the disease, helping breeders and pet owners and sponsoring research grants to find the genes responsible for canine epilepsy and for more effective treatments for dogs suffering from this disease. Epilepsy is one of the most common neurological diseases affecting dogs. In keeping with our commitment to stopping this disease and improving the quality of life for dogs suffering from epilepsy. Toby's Foundation will give $10,000 to support the Canine Health Foundation's Epilepsy Research Initiative. Please continue to help us by making a donation to Toby's Foundation.
---
Toby's Foundation attended the 63rd Annual Meeting of the American Epilepsy Society
June 2010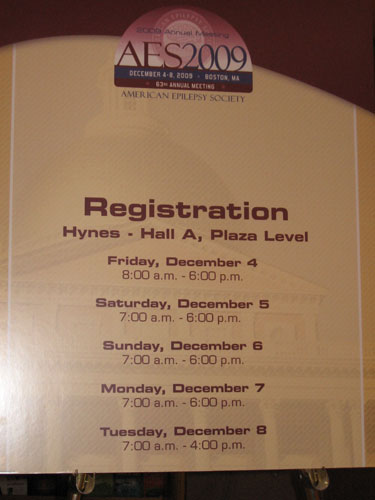 Pamela Douglas, President of Toby's Foundation represented canine epilepsy at the AES conference in Boston, MA in December 2009 shortly after Toby's death due to this disease. The AES annual meeting attracted some 4.000 participants from around the globe. The Society promotes research and education for professionals dedicated to the prevention, treatment and cure of epilepsy. Even though there were only a few of us present for canine epilepsy, this was a very important meeting to attend for anyone interested in epilepsy as Dr. Patterson said to me Same disease different species.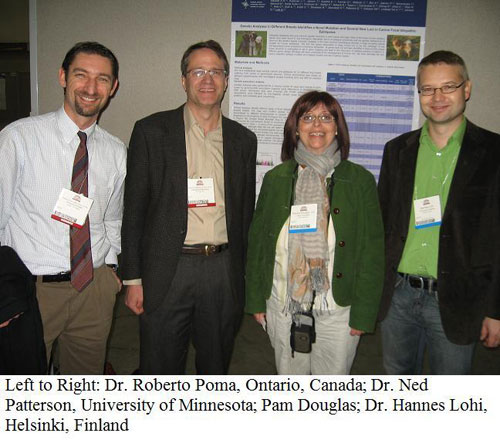 Pamela Douglas met with Dr. Ned Patterson of UMIN at the AES meeting. Dr. Patterson is the principal investigator on the Canine Health Foundation grant that Toby's Foundation co-sponsors for the Australian Shepherd. Pam Douglas and Dr. Patterson discussed epilepsy research in general and Aussie research in particular. More Aussie samples will be analyzed in the coming months using a more powerful SNP array that recently became available.
The conference also provided the opportunity to meet with world renowned researcher and geneticist Dr. Hannes Lohi from Finland who is also working on the Aussie along with other breeds and is collaborating with Dr. Patterson. This was our first meeting with Dr. Lohi and it was a great opportunity to speak with him in person. Dr. Lohi discussed the research he is doing on the Aussie and 15 other breeds.
Drs. Lohi and Patterson were at the meeting to present their study, Genetic Analyses in Different Breeds Identifies a Novel Mutation and Several New Loci in Canine Focal Idiopathic Epilepsies by Drs. Lohi and Patterson et al. It had been acceptedby AES for exhibit in the poster session.With respect to Dr. Lohi's presentation on more than 15 breeds at the AES meeting Dr. Patterson stated in a recent report that it is clear there are a limited number of breeds where one gene may cause epilepsy, but in most breeds the genetic predisposition is influenced by more than one gene which is very likely to be the case for Aussies.
---
President of Toby's Foundation, Inc. attended the biennial 2007 Tufts Canine and Feline Breeding and Genetics Conference
September 2007
Pamela Douglas, J.D., President of Toby's Foundation, Inc. attended the biennial 2007 Tufts Canine and Feline Breeding and Genetics Conference with a Special Focus on Canine Epilepsy in Sturbridge, MA on September 13th and 14th. Please see her report for the most current information on the status of canine epilepsy research.
---
For Immediate Release from Pam Douglas, President Toby's Foundation
April 2006
As we approach the second anniversary of Toby's Foundation, I have some very exciting news to share with you about the latest developments in the Aussie epilepsy research. We have gone from less than 100 blood samples just three years ago to over 1000 Aussie samples in the database as of April 2006 as reported at the USASA Nationals in MO! We have more samples in than any other breed! We are a committed group of Aussie breeders, fanciers and pet owners and the researchers have taken notice! The researchers have identified two Aussie family groups they can begin to work with. If we support the research now by filling in the missing links in family groups, raising the necessary funds for the Aussie research, submitting blood samples and if it turns out to be a simple recessive gene (which is how it now appears than the researchers), we may have a screening test in as little as 12-24 months. Otherwise, it will take longer. We have never been so close! As C.A. Sharp who attended the USASA Nationals said, we can see the light at the end of the tunnel! We are very optimistic.
In addition, Toby's Foundation has joined forces with the United States Australian Shepherd Foundation (USASF) and the Australian Shepherd Health and Genetics Institute (ASHGI) to raise $70,00.00 for Aussie epilepsy research. Toby's Foundation pledged $5,000.00 to this joint effort. The funds will go to the Canine Health Foundation (CHF) and be placed in a donor advised fund (DAF) designated for Aussie epilepsy research. UMO is applying to CHF for grants and Erika Werne, Director of Canine Research and Education at CHF has told us that she will need the support of the Aussie community to raise some of the necessary funds to qualify for matching funds. Our $5,000.00 pledge will then become $10,000.00 as they match it dollar for dollar. Our joint ad with ASHGI and USASF will be out in the May/June 2006 issue of Aussie Times and the AS Journal.
Please consider making a donation for Aussie Research.
All funds received as such will be sent to a Donor Advised Fund (DAF) at the Canine Health Foundation (CHF). Please help us raise the necessary funds for this vital research. While we have accomplished a lot there is still a lot to be done. With your support we shall be able to continue our work to defeat canine epilepsy. We have no time to waste. We must not lose our present momentum! We must stay on track!
Thank You!
Please click here to see the action items necessary to support our researchers with samples and more information.
---
Toby's Foundation Completes Pledge for Research
November 2006
Toby's Foundation is pleased to announce completion of its $5,000.00 pledge. Thank you to everyone who helped us reach this goal. We will, of course, not stop here. We will continue to raise funds for the research to help stop canine epilepsy. The funds have been placed in a Donor Advised Fund for Aussie Epilepsy Research at the Canine Health Foundation and can be matched by them.
---
President of Toby's Foundation attends AKC/CHF Fundraiser
December 2006
Pamela Douglas, President of Toby's Foundation and CA Sharp, President of ASHGI, attended the sixth annual AKC/Canine Health Foundation Gala by the Bay held at the Hyatt Regency Hotel, Long Beach on December 1, 2006. This event raises funds to find cures for canine health issues.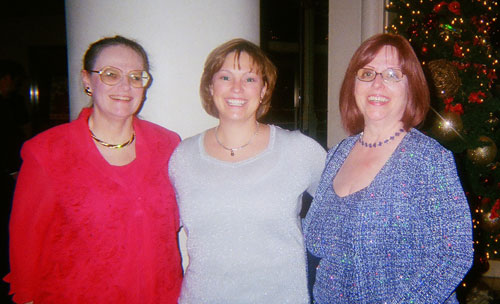 Left to Right: CA Sharp, Erika Werne, Director, Canine Research & Education, and Pamela Douglas.
---
Pamela Douglas attended the ASCA Nationals
October 2005
We attended a seminar by Liz Hansen during nationals that gave an epilepsy research update. The good news there are over 700 Aussies sampled as of October 2005! The bad news there are a lot of 'holes' in families
92 of the samples are from affected dogs. Toby is one of the 92 affected dogs, but because of confidentiality, we don't know the identity of the others.
We are asking the owners of the 92 affected dogs to join us in making sure that all of the dogs (both affected and unaffected siblings, parents, grandparents, and offspring) related to your dog submit a blood sample to the University of Missouri. It is very important that we have complete family information from all affected dogs and their relatives.
Please do everything you can to get the samples submitted from all of your dog's relatives.