Articles
As part of the mission of Toby's Foundation to increase public awareness of canine epilepsy in the Australian Shepherd breed, the foundation sponsors advertisements. Previous advertisements have appeared in the United States Australian Shepherd Association (USASA) Journal and the Australian Shepherd Club of America, Inc. (ASCA) magazine, Aussie Times.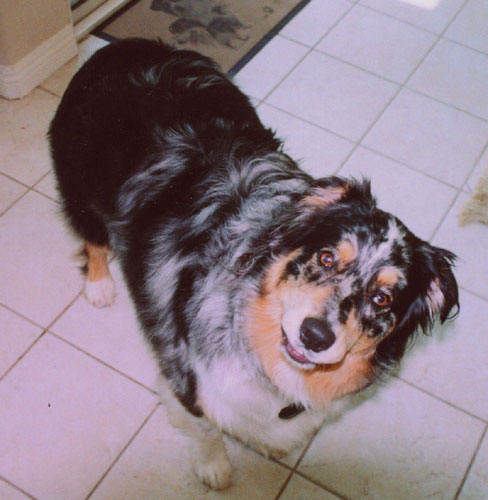 Toby's Foundation has also been featured in the USASA Journal.
The Face of Epilepsy: How One Pet Owner is Staring It Down
by Stevens Parr
USASA Journal, September/October 2004
Tufts University Genetics Conference Focuses on Canine Epilepsy
by Pamela C. Douglas, JD
USASA Journal, January/February 2008
Toby's Foundation: a legacy of love
by Pamela C. Douglas, JD
ASCA AussEnews, September 2019
Materials
You can help increase awareness about canine epilepsy and Toby's Foundation! Download our brochure for your vet, pet store, and friends.

The Road to Hell: Epilepsy and the Australian Shepherd by C.A. Sharp
First published in Australian Shepherd Journal, vol 13 issue 4, July/August, 2003

How to Join the Fight Against Canine Epilepsy within your Breed by Pamela Douglas
Download the brochure.

After the Shock and Tears: Life After your Dog's First Seizure by Pamela Douglas

Diagnosis of Canine Epilepsy: Plain and Simple by Pamela Douglas
First published in the Australian Shepherd Journal, May/June, 2006. Download the brochure.

The Long and Winding Road by C.A. Sharp
First published in The Australian Shepherd Journal, vol 18 issue 2, March/April, 2008

Never Forgotten by Margaret Wilkinson
Published in The GSD National Magazine Official Journal of the German Shepherd Dog Breed Council of Great Britain,
Volume 25 No. 8, August 2011

When Species Meet by Donna J. Haraway
ISBN-10: 0816650462
ISBN-13: 978-0816650460
Publisher: Univ Of Minnesota Press (November 26, 2007)

Ms. Haraway is professor in the History of Consciousness program at the University of California, Santa Cruz. Chapter 4 of her book, entitled "Examined Lives: Practices of Love and Knowledge in Purebred Dogland," includes information about the epilepsy effort in the Australian Shepherd community. Pamela Douglas and Toby's Foundation are highlighted as are ASHGI and C.A. Sharp, AussieGENES, and Epigenes.

Download an AussieGENES poster featuring Toby's Foundation and Ten Steps to a Healthier Australian Shepherd Breed.