Greetings from Toby's Foundation,
The CHF grant "Identification of Idiopathic Epilepsy Genes in Australian Shepherds" for Dr. Ned E. Patterson, DVM PhD, University of Minnesota, should begin by January 1, 2012. The amount of this grant is $106,289.
Information about Dr. Patterson's new CHF grant to continue his canine epilepsy research on the Australian Shepherd:
"In 2010--2011 we performed a Genome Wide Association Scan (GWAS) with genetic markers for Idiopathic Epilepsy (IE) …and found a chromosomal region with a statistically significant association. This indicates that there is very likely to be a nearby genetic mutation related to epilepsy in Aussies. Another chromosomal region is close to achieving significant association. In this ongoing study, we plan to sequence the small chromosomal area in the area of significance to identify the gene that is causing or contributing to IE in Aussies, as well as perform an additional GWAS…The additional GWAS is needed to see if there is more than one gene contributing to the development of IE in AS. Once we identify a confirmed mutation we will then develop a DNA based genetic test. An IE genetic test would greatly assist breeding programs to identify affected puppies before they are sold by breeders and aid veterinarians in diagnosis and possibly treatment of affected dogs. It could also lead to the eventual elimination of this disease from the AS breed through selective breeding. In addition, once we identify one or more IE gene(s) in AS we will test to see if these mutation(s) affect other dog breeds with a high incidence of IE."
Toby's Foundation will cosponsor this grant:
Please help us support this research by making a Year End donation for 2011 to Toby's Foundation. All gifts are tax deductible to the fullest extent of the law. Please see below for information to donate on line or to mail in your donation. Thank you.
Matching gifts have been very helpful in enabling us to sponsor canine epilepsy research. We have, to date, directly sponsored two grants and co-sponsored three other grants due to your generosity and matching gifts. If you have an employer with a matching gifts program please let us know and please make a donation to help us.
Happy Holidays and a Healthy New Year to All!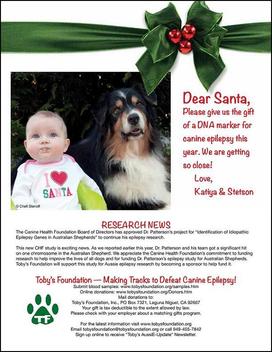 We are very thankful for your support and for all the clubs that have held fundraisers to help us.
Our current Holiday ad "Dear Santa" features Stetson and Katiya in the Nov. / Dec. 2011 issue of the AS Journal and Aussie Times and on our website and facebook.
View Our Ad Here
Letters to Toby and our Aussie Album
Our Letters to Toby and Aussie Album have recently been updated with new letters and photos. Through the letters you will come to know these precious dogs. Some are still living with epilepsy and others have lost their lives because of this terrible disease. You will meet too the people who love them dearly and have fought for them everyday to have as much of a long and happy life as possible in spite of this disease. This disease is no respecter of age. Meet Stetson who "tells" his own story and recently turned 11 years old. Meet Ace who died just before he turned 9 years old. Robin writes about her beloved Ace in three letters spanning 6 years. Meet Ripper whose owner tried so hard to save him from the monster that is canine epilepsy. He died because of cluster seizures two months before his second birthday. Previously we mentioned Megan and the article about her "Never Forgotten" by Margaret Wilkinson and a letter and an ad for Cali, a shelter dog with epilepsy. Please visit our Letters to Toby to read some of these heartfelt and inspiring letters and visit our Aussie Album. If your dog has epilepsy and you would like to add a letter or photo please email it to us.
Murphy's Diary:
This is a detailed account of living with epilepsy. Murphy also appears in our Letters to Toby and in our Aussie Album's memorial pages on our website. Please read Murphy's Diary.
An excerpt from Murphy's diary:
"I began keeping this record on the day of his first seizure, November 21, 1997.
The final entry was made on October 29, 2004, the day after he died. I kept this record of Murphy's life with epilepsy in a 100 sheet, college ruled ring binder. When he died, there were only 7 empty pages. This is a very raw document, often written in the middle of the night or after many sleepless hours. No attempt was made to correct grammar or spelling. It was weeks before I realized acupuncture was spelled with only one "c". Of course, Spell Check will correct this transcription. Otherwise, there are no changes. It appears as it was and as it happened. It seems only yesterday…. Tonya Berger"
Charitable Giving
Your gifts help us to support the research to find the genes responsible for canine epilepsy and develop a screening test.
Please make Toby's Foundation part of your charitable giving. Toby's Foundation, Inc. is a non-profit 501(c)(3) organization. Our Federal Tax Identification number is 74-3135217. Your gift is tax deductible to the fullest extent of the law and helps us in our efforts to stop canine epilepsy. Please check with your employer about a Matching Gifts program.
If you would like to make a memorial or honorary gift to support canine epilepsy research, an acknowledgement card can be sent to whomever you specify.
We accept donations online (see link below) or you may mail your check to:
Toby's Foundation
P.O. Box 7321
Laguna Niguel , CA 92607
Please Donate
Visit us on facebook. Please support us by becoming a fan.

AussiE-Update Volume V, No. 41
November 16, 2011

Permission is given to post, cross post and share this information.
No portion of the text may be changed to alter meaning. Credit should be given to Toby's Foundation AussiE-Update with volume, number and date of the issue.