Greetings from Toby's Foundation,

10 Years of Dedication and Service to Canine Epilepsy Research and Education!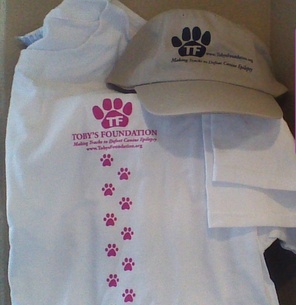 Please make a donation in Honor of our 10th Anniversary. Toby's Foundation has committed $35,000 to fund important new research in 2015. Please make the most generous donation you can to Toby's Foundation this holiday season to keep the research moving forward. If you would like to make an Honorary or Memorial gift an acknowledgement card will be sent to whomever you specify.
For a donation of any amount your name will be listed on our Donor's page and for a gift of $50.00 or more we would like to send you a free gift. Please choose a Toby's Foundation cap or t-shirt. The cap is tan with black lettering. T-Shirts are white with purple lettering and paw prints and are available in adult size S, M, L or XL. Please specify size. Substitutions may apply. Good while supplies last
To make a donation online click here or mail to:
Toby's Foundation
P.O. Box 7321
Laguna Niguel , CA 92607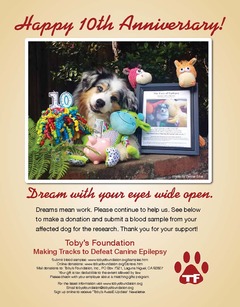 ---
November is Epilepsy Awareness Month
Please join us this month and everyday to raise awareness of epilepsy by sharing your dog's story. Let people know that your dog is epileptic. Please share about Toby's Foundation and the work we are doing to stop canine epilepsy by raising public awareness and supporting epilepsy research. If you would like to share your dog's story and photo with us please send it to us for our Facebook page. In our "Letters to Toby" on our website we feature special stories. Please see our recently added story "In Loving Memory of Buddy" with photos of Buddy in his wagon. Take some time to look at some of the other stories about these precious epileptic dogs. Consider writing your dog's story and sending it to us.
Toby's Mom, a.k.a. Pam Douglas, President, Toby's Foundation
Visit the NCSU blog for Epilepsy Awareness month.
---
Blood Sample Submission:
Blood samples are needed from Australian Shepherds affected with genetic epilepsy for Dr. Ned Patterson's Aussie Epilepsy research. Please go to www.tobysfoundation.org/samples.html and click on the University of Minnesota for all the information you need on submitting a blood sample from your affected dog.
---
Charitable Giving
Your gifts help us to support the research to find the genes responsible for canine epilepsy and develop a screening test.
Please make Toby's Foundation part of your charitable giving. Toby's Foundation, Inc. is a non-profit 501(c)(3) organization. Our Federal Tax Identification number is 74-3135217. Your gift is tax deductible to the fullest extent of the law and helps us in our efforts to stop canine epilepsy.
Please check with your employer about a Matching Gifts program.
If you would like to make a memorial or honorary gift to support canine epilepsy research, an acknowledgement card can be sent to whomever you specify.
We accept donations online (see link below) or you may mail your check to:
Toby's Foundation
P.O. Box 7321
Laguna Niguel , CA 92607
Please Donate
---
Please also support us by v
isiting us on facebook and like us
.

AussiE-Update Volume VII, No. 53
November 11, 2014

Permission is given to post, cross post and share this information.
No portion of the text may be changed to alter meaning. Credit should be given to Toby's Foundation AussiE-Update with volume, number and date of the issue.