Greetings from Toby's Foundation!
Announcing a European Canine Epilepsy Research Project / Six Dedicated Researchers to collaborate on one Disease- Canine Epilepsy!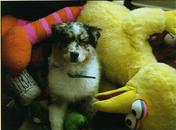 At the recent 2007 Tufts Canine and Feline Breeding and Genetics Conference with a focus on canine epilepsy, Dr. Cathryn Mellersh of the Animal Health Trust, UK reported that she will be working with 5 other researchers from European countries on canine epilepsy research. One of the other researchers is Dr. Hannes Lohi in Helsinki, Finland. In a recent email to Toby's Foundation, Dr.Mellersh told us that they now know that the application will be funded, although at this stage they don't know how much they will receive.

This European canine epilepsy research project offers great potential for finding the gene(s) responsible for canine epilepsy in various breeds including the Australian Shepherd. This European commitment to canine epilepsy is extremely encouraging. Toby's Foundation asked for Aussies to be one of the breeds worked on by this renowned research team. Dr. Mellersh said that the breeds that "we ultimately choose to work on will be those with the best sample collections - breeds without sufficient samples from affected dogs will not be suitable." She expressed to me that the Australian Shepherd should be one of the breeds worked on if the samples are there. Dr. Dennis O'Brien at the same conference told me on September 14th that he expected Aussie samples to be sent to Dr. Hannes Lohi who has the SNP chips to run our Aussie DNA.

The Australian Shepherd is an ideal candidate for this European research as long as the researchers can obtain Aussie samples.
Toby's Foundation is currently in the process of updating our recommendation for submitting blood samples.

Permission is given to post, crosspost and share this information.

AussiE-Update Volume I, No. 4