Greetings from Toby's Foundation,
Toby's Foundation attended the 63rd Annual Meeting of the American Epilepsy Society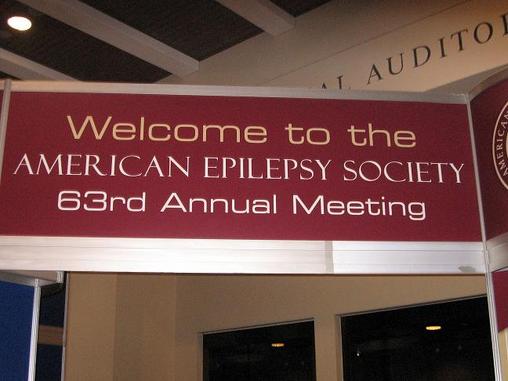 Pamela Douglas, President of Toby's Foundation represented canine epilepsy at the AES conference in Boston, MA in December 2009 shortly after Toby's death due to this disease. The AES annual meeting attracted some 4.000 participants from around the globe. The Society promotes research and education for professionals dedicated to the prevention, treatment and cure of epilepsy. Even though there were only a few of us present for canine epilepsy, this was a very important meeting to attend for anyone interested in epilepsy…as Dr. Patterson said to me "Same disease different species".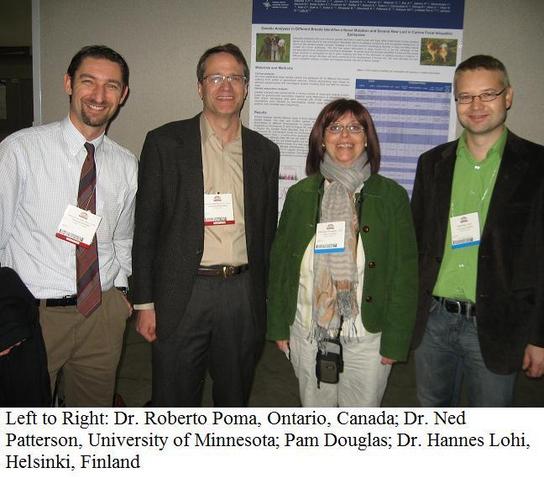 Pamela Douglas met with Dr. Ned Patterson of UMIN at the AES meeting. Dr. Patterson is the principal investigator on the Canine Health Foundation grant that Toby's Foundation co-sponsors for the Australian Shepherd. Pam Douglas and Dr. Patterson discussed epilepsy research in general and Aussie research in particular. More Aussie samples will be analyzed in the coming months using a more powerful SNP array that recently became available.
The conference also provided the opportunity to meet with world renowned researcher and geneticist Dr. Hannes Lohi from Finland who is also working on the Aussie along with other breeds and is collaborating with Dr. Patterson. This was our first meeting with Dr. Lohi and it was a great opportunity to speak with him in person. Dr. Lohi discussed the research he is doing on the Aussie and 15 other breeds.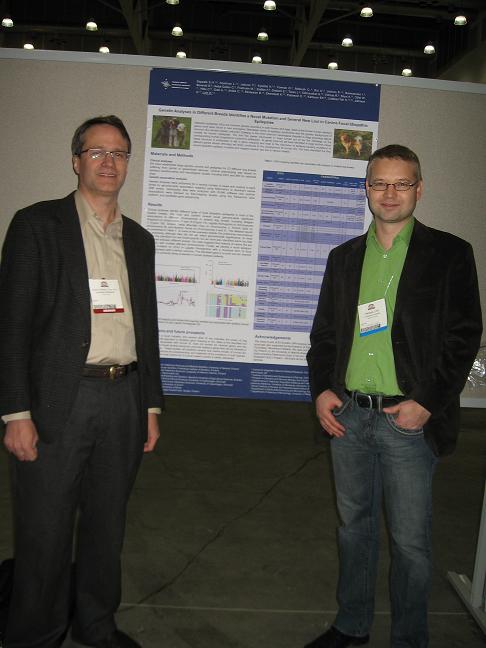 Drs. Lohi and Patterson were at the meeting to present their study, "Genetic Analyses in Different Breeds Identifies a Novel Mutation and Several New Loci in Canine Focal Idiopathic Epilepsies" by Drs. Lohi and Patterson et al. It had been accepted by AES for exhibit in the poster session. With respect to Dr. Lohi's presentation on more than 15 breeds at the AES meeting Dr. Patterson stated in a recent report that "it is clear there are a limited number of breeds where one gene may cause epilepsy, but in most breeds the genetic predisposition is influenced by more than one gene which is very likely to be the case for Aussies."
Charitable Giving
Your gifts help us to support the research to find the genes responsible for canine epilepsy and develop a screening test.
Please make Toby's Foundation part of your charitable giving. Toby's Foundation, Inc. is a non-profit 501(c)(3) organization. Our Federal Tax Identification number is 74-3135217. Your gift is tax deductible to the fullest extent of the law and helps us in our efforts to stop canine epilepsy. Please check with your employer about a Matching Gifts program.
If you would like to make a memorial or honorary gift to support canine epilepsy research, an announcement card can be sent to whomever you specify.
We accept donations online (see link below) or you may mail your check to:
Toby's Foundation
P.O. Box 7321
Laguna Niguel , CA 92677
Please Donate
AussiE-Update No. 29, Volume IV
July 6, 2010