Greetings from Toby's Foundation,
---
Epilepsy News from Around the Globe
---
Toby's Foundation:
Pamela Douglas, President attended the American Epilepsy Society 63rd Annual Meeting and was able to meet with two of the researchers working on finding the genes responsible for canine epilepsy in the Australian Shepherd breed. Our next newsletter will report on this meeting.

Our 5th Anniversary ad has been translated into Finnish, German, Dutch, French, Czech, Polish and coming soon Italian and Slovenian. If you would like to add your club and country to this list please contact us. Thank you.

Memorial Donations are being received In Memory Of Toby (2002 – 2009). Toby's Memorial / Tribute ad will be released in March 2010.
---
Purpleday.org: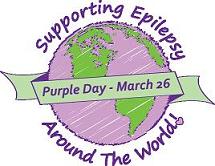 A global initiative to raise epilepsy awareness worldwide. Toby's Foundation is partnering with www.purpleday.org. Please visit their website for more information. Please wear PURPLE on PURPLE DAY, March 26, 2010. Purple Day is a simple yet effective way to unite with others around the globe to increase awareness of epilepsy for both canines and humans. SAME DISEASE - DIFFERENT SPECIES!
---
Australian Shepherd Health and Genetics Institute (ASHGI):
announced in their Double HELIX Network News, Vol. XVIII No.1 Winter 2010 Update that the proceeds of their annual raffle at the ASCA National Specialty will be divided between epilepsy and cancer research this year. Thank you to ASHGI for their commitment and dedication to the health of the Australian Shepherd and for their continued help and support in the fight against canine epilepsy!
---
Morris Animal Foundation (MAF):
"Study Successes – February 2010" -"A Step Closer to Genetic Cause of Epilepsy". "MAF funding enabled scientists to narrow down the mutation that causes idiopathic epilepsy to three chromosomes and to identify the likely regions that are highly associated with idiopathic epilepsy where they hope to identify the actual genetic mutation (s). These findings on the Belgian sheepdog and Tervuren should apply to many dog breeds that experience epilepsy. D05CA-072: Developing a Genetic Marker for Idiopathic Epilepsy in the Belgian Sheepdog". Principal investigator: Anita M. Oberbauer, PhD, University of California/Davis

MAF grant D08CA-064 "Dr. Simon Platt's study, Pharmacokinetics of a Midazolam Gel Following Intranasal Delivery in Dogs, The University of Georgia.

Results: "Scientists Identify Better Way to Administer Antiseizure Drug". Midazolam is a potent but safe antiseizure drug currently used in humans and animals. Researchers from the University of Georgia tested the effectiveness of giving dogs this drug as a nasal gel via a simple and accurate spray device. The nasal gel formulation of midazolam resulted in higher levels of the drug in the blood, and those levels were attained faster than when the currently used liquid midazolam formulation was administered intranasally or rectally. This means the gel formulation, which is easier to administer and well tolerated by dogs, could provide owners and veterinarians with a better approach to treating emergency seizures in dogs, both at home and in the hospital. This spray could also provide a safer and faster-acting treatment for stopping seizures in other species, such as cats and horses. Further work is necessary to evaluate which type of pump or delivery system is most effective for clinical administration of the drug."
---
Boehringer Ingelheim:
(offices in Germany and the US ) one of the world's largest pharmaceutical companies has developed a new anticonvulsant to treat dogs with idiopathic epilepsy (seizures with no known cause) and clinical trials are underway. Visionaire Research and Education is the company that is handling administrative, press and public information about the trials. The study is nationwide with clinical trial sites around the country. Dogs that were recruited had not previously been treated with anti-seizure medication. It is hoped that this drug will result in more effective treatment for dogs suffering from seizures and with the clinical trials that more information may be learned about idiopathic epilepsy.
---
North Carolina State University, College of Veterinary Medicine , Department of Clinical Sciences:
From Julie Nettifee Osborne, RVT, BS: the Keppra study and the MDR study have both been completed, and they are in the process of writing up the results for presentation at the ACVIM forum in June and according to Dr. Munana, we should be able to share the results with them within the next few months, and would appreciate them posting the information on their website.

Other studies that are underway include a clinical study of Keppra Pharmacokinetics when given in combination with Phenobarbital. "We actually still need a few dogs to participate that are on Phenobarbital at steady state levels, and Keppra. They do not have to come to NCSU-CVM, we can potentially arrange for sampling to be done and shipped to us from a referring DVM or Neurologist"...
---
Charitable Giving
Your gifts help us to support the research to find the genes responsible for canine epilepsy and develop a screening test.

Please make Toby's Foundation part of your charitable giving. Toby's Foundation, Inc. is a non-profit 501(c)(3) organization. Our Federal Tax Identification number is 74-3135217. Your gift is tax deductible to the fullest extent of the law and helps us in our efforts to stop canine epilepsy. Please check with your employer about a Matching Gifts program.

If you would like to make a memorial or honorary gift to support canine epilepsy research, an announcement card can be sent to whomever you specify.

We accept donations online (see link below) or you may mail your check to:

Toby's Foundation
P.O. Box 7321
Laguna Niguel , CA 92677
---
If you have news you would like to share with us about what you are doing to increase awareness about canine epilepsy and/or to raise funds for the research please visit our website to contact us.



AussiE-Update Volume IV, No. 26
February 28, 2010