Greetings from Toby's Foundation! IT'S OUR 5TH ANNIVERSARY!
Where We WERE Then and Where We ARE Now!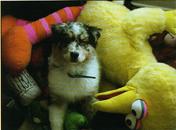 Back then we were busy raising awareness. Today we are busy raising funds and helping to collect blood samples for the research. Back then there were fewer than 100 blood samples and no epilepsy grant to study Aussies. Today there are over 1000 samples and an epilepsy grant for the Australian Shepherd with three researchers working together on this disease.

Epilepsy research has made great progress, thanks to your generosity and support. We still need your help to reach our goal to find the genes responsible for canine epilepsy and to develop a screening test. Please continue to give blood and make a donation. Thank you!
View our ad in the July/August 2009 issue of the Australian Shepherd Journal and Aussie Times
Research Update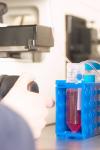 Dr. Patterson at UMN, Dr. Johnson at UMO, and Dr. Lohi in Finland continue their efforts to find the genes responsible for canine epilepsy.

Dr. Patterson reports that additional Australian Shepherd cases and controls have been sent out for genotyping on the SNP arrays. "This new data will be combined with the previous data and the analysis will then be revised. Drs. Patterson and Lohi will coordinate a concerted effort to analyze more Aussies in the next 6 to 9 months. Dr. Johnson at UMO is also in the midst of sequencing some interesting genes in a few of the possible areas of interest for the Aussies."

Dr. Patterson has also submitted additional ESS samples to his collaborators at the Mayo Clinic Shared Genotyping Resource. "Our hope is that one or more areas with an epilepsy gene of influence will now become more apparent." Dr. Patterson recently had "a chance to talk in detail in person with Dr. Hannes Lohi about all the Epilepsy projects with an emphasis on ESS, Aussies (and Vizslas)."

"It has become increasingly apparent that IE is likely to be polygenic in most breeds. To date, to our knowledge, no IE gene has yet been identified in any breed. Our, now formal, agreement with the U of MO and Finland allows us to compare possible chromosomal areas across breeds - ESS and Aussie's (also Vizlsas and other breeds) in case there is a shared gene across breeds in which putting the data together might be more efficient in identifying the specific gene."
Charitable Giving
Please make Toby's Foundation part of your charitable giving. Toby's Foundation, Inc. is a non-profit 501(c)(3) organization. Our Federal Tax Identification number is 74-3135217. Your gift is tax deductible to the fullest extent of the law and helps us in our efforts to stop canine epilepsy. Please check with your employer about a matching gifts program.

If you would like to make a memorial or honorary gift to support canine epilepsy research, an announcement card can be sent to whomever you specify.

We accept donations online (see link below) or you may mail your check to:

Toby's Foundation
P.O. Box 7321
Laguna Niguel , CA 92677
AussiE-Update Volume III, No. 17
July 15, 2009